Apron
High quality, handmade in UK and printed by screen or digitally press
Enquire Now
|
Product Description
Allow your design to reach it's potential on one of our high quality aprons. They look great on the hanger or shelf in store and perform well in the kitchen. Printed aprons are in demand in the kitchen textiles market. They are a strong favourite for retailers due to their mark up and profit margin. We have seen aprons retailing from £12 up to £25 on average, depending on the retailer and design.
Specification
Adults size - 88cm x 58cm
Childs size - 75cm x 58cm
Your design printed on front of apron
Single colour to full colour options available
Finished in a choice of materials and base fabric colours
Choice of colours for ties & neck strap at no extra charge
Additional finishing options available including adding your own labels
View our design and finishing guide.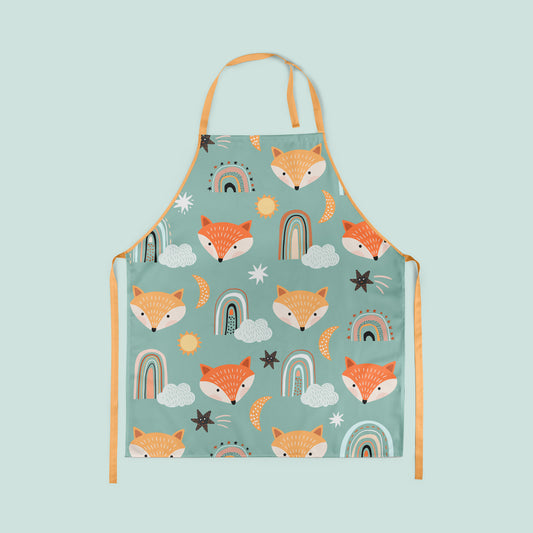 High quality UK made aprons
We have printed aprons in small batches for start-ups and independent designers, to large print runs for our larger national or multi-national clients. In all cases quality and attention to detail has been central to the finished products delivered.

All of our aprons are made in the UK from the highest quality fabrics. We print all aprons in house on one of our state of the art digital presses or screen printers using high grade inks. This allows us to print complex designs in vibrant colous that we know will pass the test of time.
Pre-production samples available
Also we offer pre-production samples for our aprons. Further information is listed at the bottom of the page. One-off digitally printed samples of your Apron design are £30 + VAT (one apron) and £30 + VAT for a one-off screen printed sample. Following the sample, if an order is placed for 25 units or more we will refund the sample charge.
Made from high quality materials
We use local suppliers and manufacturers who use high quality materials and provide a high quality product. Our aprons are available in a choice of fabrics including optimal pre-treated 8oz half Panama and premium cottons in white, natural and dyed cream.

For digitally printed aprons, we recommend our optimal material to print vibrant colours and fantastic detail. It is made from high quality white 8oz Half Panama and has superb wash fastness and durability.

For screen printing - our most popular material option is cotton drill. However, we are seeing customers using standard premium cotton and other materials to suit their needs and budgets
A large choice of finishing options
As our aprons are finished in the UK it means we can add your own branded labels and care labels. The ties and neck straps can also be colour co-ordinated to compliment your design.

Our finishing team have a range of different colours available to use for the ties and neck at no extra charge. Colours available include Black, Navy, Royal, Red, Maroon, Yellow and Bottle Green for both the ties and neck.
We offer a truly customised product. Please get in touch to find out a full list of options are available and we'll be happy to provide a quote.
Delivery
For orders over £250, delivery to standard UK mainland address is free of charge. Delivery for orders below £250 is £8.00 + VAT to standard UK mainland addresses.